Macy's recently had a sale on some of their Lancome products and it was a good one. During regular sale times, Lancome products usually get discounted by 20%. Sephora's Friend and Family, VIB rouge/VIB sales, Lancome's own sales, and probably a few more out there usually go up to about 20% off. Granted Macy's did not allow you to choose the Lancome product, the ones that did go on sale were 30%+ off. I purchased two items and would like to share with you. One of them is the All-over Face Palette x Jason Wu.
First thing that caught my eye with this palette is the gorgeous print. It is a sleek black snake skin printed clutch with a gold clasp. The closure is magnetic and you open up to a mirror and palette.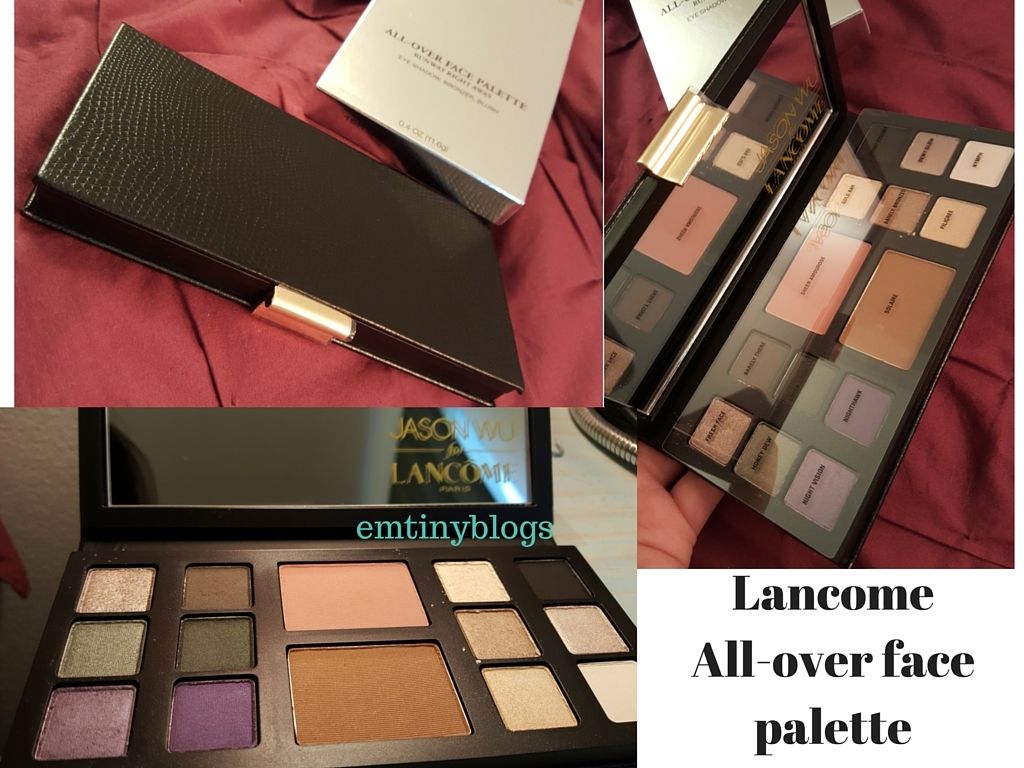 Lancome x Jason Wu palette, $60
The palette is slim and not too heavy, but fells sturdy enough to be traveled with. Each of the eyeshadows, blush, and bronzer are a good size. The range in color wasn't too big, but you can definitely create many looks for many occasions with the ones given.
It does not come with a brush, which is a good or bad thing for some of you.
limited edition palette
fresh face: gritty, very glittery champagne silver
honey dew: metallic light green
night vision: metallic lilac lavender
barely there: gunmetal gray with shimmer
green goddess: slightly metallic bronze deep green
nighthawk: grape purple
sheer amorose: mauve matte pink
solaire: bronzer with just a hint of sheen
gold bar: barely there shimmer
barely bronzed: very shiny bronze
filigree: pale shimmer
ebony essence: matte black
dewy glow: opal sheen
nymph: stark white
Texture/application:
Most of them applied very easily with the exception of Fresh Face, Gold Bar, and Filigree. These required more than a couple swipes to get the product to stay/show up on my skin. Also, Fresh Face was gritty to the touch and just felt like it would be full of fall out.
Scent:
None detected.
Staying power:
These stayed about 5 hours on my oily lids, but could stay 8 hours if I wore the right primer.
Overall:
I really like the design of this palette. However, I wish it came with more varied colors. A lot of the shades on the right side of this palette were so similar that I could do without some of them. I love the blush a lot...the matte but bright/lively shade is a match for me. This blush isn't limited to this palette, thankfully.
I can see how if you don't have a lot of these colors or just want something travel friendly, this would be the palette to get. I got mine for $36 during the Macy's sale, which made it a steal! However, if you could get it for 20% off msrp price it would be pretty awesome too. Personally, I already have a lot of these shades so I think I could have passed, but definitely play with the colors to see if you like it!