Guerlain Meteorites are one of the makeup items that has always been on my list of things to try. They are just so precious- the round pearls, different colors, packaging...just everything. I have always steered clear of them because they have always been some sort of shimmer or highlight item. I don't like highlighting items too much and I felt like I wouldn't be able to get enough uses out of it. When the Perles de Blush version of Guerlain Meteorites came out, I was ecstatic. I knew this would be my opportunity to purchase the Meteorites and actually use it. So that is how I ended up writing this review. To get a more in depth look at the Guerlain Meteorites Perles de Blush in Angelic Radiance, read below.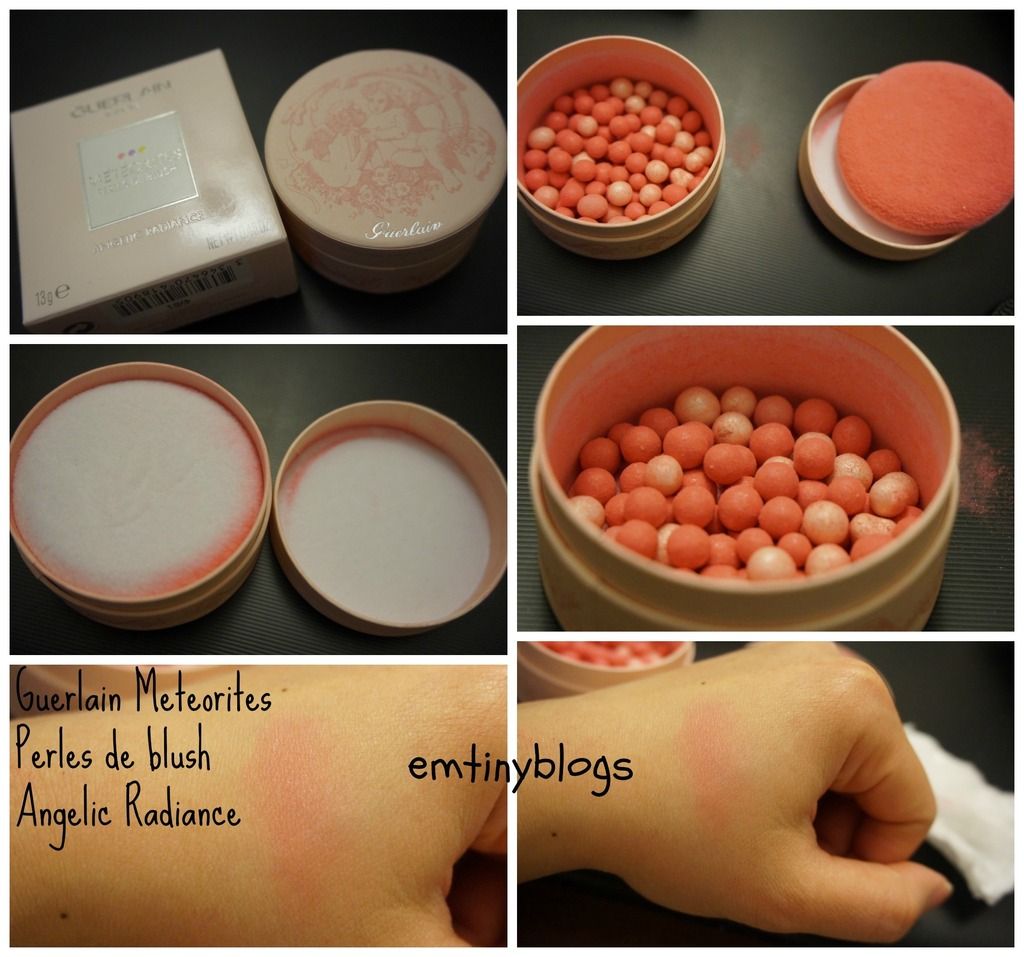 Guerlain Meteorites Perles de Blush in Angelic Radiance, Sephora.com, $53
A mix of pink, peach, and radiant powder.
(see the spill over in the right middle picture? That is from lifting the powder puff)
I have had this item for about a month and I am only writing the review now because I have been having mixed feelings. The print on the box is very pretty. I love the soft puff that comes with the container and the colors of the pearls are gorgeous. They lit up my face and not in a shimmering way. The scent was floral, but in an elegant way. The lasting power was amazing.
However, there is a downside to each one of the good characteristics I listed. Though the box was pretty printed, it is made of a soft cardboard and did not feel sturdy enough for me to bring anywhere. The powder puff though soft was extremely difficult to pull up from the box. It also dispersed a lot of powder during each lift and each push back into the container. The scent is nice and I like it, but I can see how people more sensitive to smells would be turned off by it. The blush lasted a long time on my face, but I don't feel the shade was overwhelmingly unique.
Now you see why I have been back and forth on my take on this product? I think depending on the person, one can love it or can leave it. Personally, for $53, I feel like I need to love it, but I don't. I feel for me to love it I need this to hold more product, have a better applicator placement so I don't loose a good amount each time I remove and replace the powder puff, and the container needs to be more sturdy. The powder puff already comes saturated with blush which makes it extremely difficult to apply to the face as it will cause you to over apply.
Application/Texture: I would not be able to use the over-saturated powder puff to apply blush, but using a stippling brush, I was able to nicely create a glowing flush on my cheeks. The powder is finely milled and easy to blend.
Staying power: This lasted 8-9 hours.
Scent: Floral. Quite potent, but does go away after a minute of application.
Pigmentation: Quite pigmented and not shimmery. It still does give a nice natural glow.
Overall: I really do like the product itself because it gives me a very natural glow without shimmers. However, for $53, there are a lot of things that are not good enough. The amount of product is a mere 13g. The container is very flimsy and not good for any travel. The scent is on the stronger side, but the blush does have very good pigmentation. The powder puff is badly designed as it takes too much product and displaces too much blush when you replace it. It is also extremely difficult to lift the puff as there are no pull or handles. Overall, I think there are better blushes out there that are worth more of your money. However, I can see if you are a meteorites fan, this could be a must-have.
All products shown here were purchased with my own money and were given my fair and honest opinion.